Hi all,
We have a 20 year old 3.6m x 3.6m dining room extension with a pitched roof ceiling that was as leaky as old boots. Upon inspection all it had up there was around 100mm of rockwool type insulation and thermal camera images showed how bad it was.
So we set about improving that. We ripped down the old ceiling back to joists and rebuilt. We've now ended up with:
200-300mm rock wool
70mm PIR between joists (taped underneath)
25mm PIR under the joists (taped)
12mm Plasterboard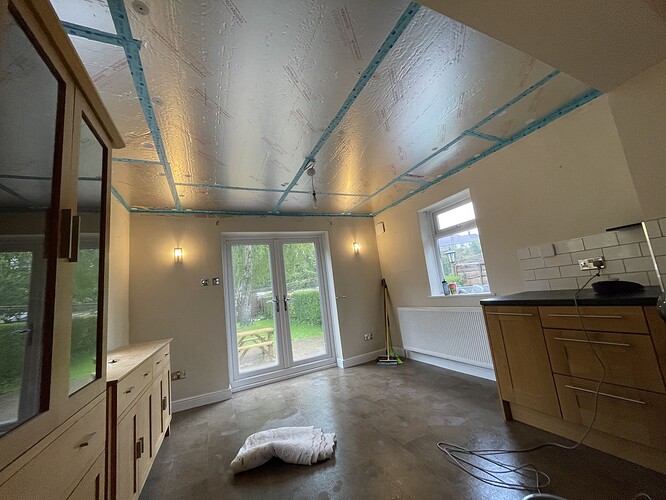 Using Home Assistant and Xiaomi sensors I can see an instant positive impact on temperature drop off. Hopefully this will really help in winter.
But a by product of the work is an increase in humidity in both the dining room and adjacent open plan kitchen next door.
We have no room for any large space consuming MVHR and associated pipework as we are in a 1930's semi.
We have a cooker hood which we use when cooking.
But was wondering if something like a constant trickle feed mechanical vent would help in the kitchen?
There is a small area of wall in the kitchen that is outward facing that we might be able to fit such a device.
But it would need to be quiet. And probably responsive to higher humidity readings, ie when washing/drying clothes etc.
https://www.vent-axia.com/range/lo-carbon-tempraselv
https://www.vent-axia.com/range/lo-carbon-response-7-selv
Any recommendations would be very much appreciated.
Cheers, Mick