Who is using Home Assistant? I recently set it up for myself and thought would be interesting to see what other people have done.
Here's my interface: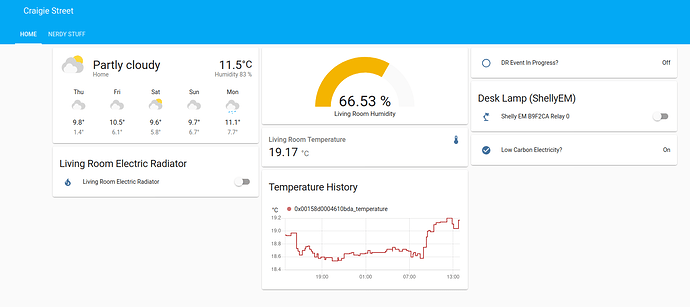 Weather data comes from yr.no
Living room temperature and humidity are from a mi Aquara sensor. It uses zigbee, and I'm getting this data into Home Assistant with a zigbee2mqtt bridge.
The living room electric radiator is connected to a Shelly 1 smart switch (I'm updating that to a Shelly 1 PM soon).
The desk lamp is connected to a Shelly EM based relay - it is what we are using for immersion switches for the PowerShaper service so I keep one on my desk for testing. I don't have an immersion switch so a lamp will have to do for now!
DR event in progress is just an indicator to say if a PowerShaper demand response event is in progress or not.
The low carbon electricity card uses the custom component I wrote last year to indicate if the electricity in my area is low carbon or not. I'm not using this for any automations.
On the "Nerdy Stuff" page I have a few things that I don't want to see every day, but find kind of interesting: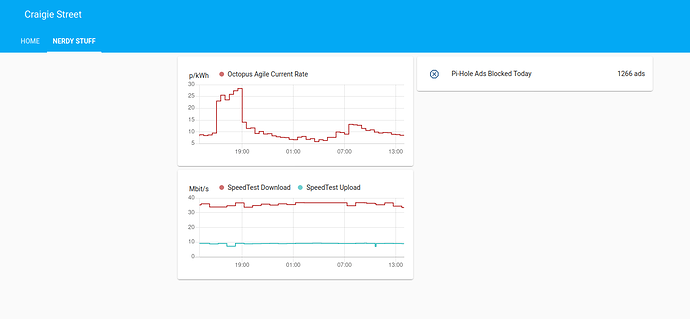 The Octopus Agile electricity tariff in my area is provided by the Octopus Agile Home Assistant component. I'm not on the agile tariff yet but interested in changing.
The Speedtest.net integration is there because I was having issues with my internet connection a few months ago and wanted to track the speeds I was getting.
Finally, the Pi-Hole card shows how many ads I have blocked using Pi-Hole which is also installed on the Raspberry Pi running Home Assistant.
My Home Assistant is installed on a Raspberry Pi 3+ using Balena - it's not the simplest way to get up and running, but lets me use technologies and techniques that are useful for Carbon Coop work on the PowerShaper HEMS.