Hi, I am looking at insulation of an attic bedroom in a victorian (1895) terrace house. Currently there are original slates, with no underfelt laid on rafter. There is a lathe and plaster ceiling under this. No insulation at all. The rafters depth is pretty standard (approx 12cm). The slates are starting to fail and I need a re-roof. And to install insulation.
Ideally I want to overboard the inside (as there is lots of headroom) and the walls too possibly, without removing the plaster to reduce the mess. If possible I would put say 50mm of cellotex style insulation above the original lathe and plaster between the rafter when re-slating, with a breathable felt , leaving an air gap. and then 100mm of celotex below the lath and plaster creating a sandwich. But I think this wouldn't be recommended? Sandwiching the original lathe and plaster between insulation could cause 'dew point' damp? What about breather membranes??? Where would they go?.. or do I need to drop the victorian ceiling and start afresh?
Then I need to think about the attic spaces. Should I top up the fibreglass insulation laid on the floor in them 20 years ago, replace with something else, or fix insulation above to create a 'warm' attic? And the upstand walls of the attic room… do I insulate on the inside or outside of the vertical brick walls of the attic bedroom?
Basically, I'm not sure I know what I'm thinking? I don't want to raise the slates as its a long terrace. I want to save on mess, and if possible do some of the work myself.
A sketch to help explain below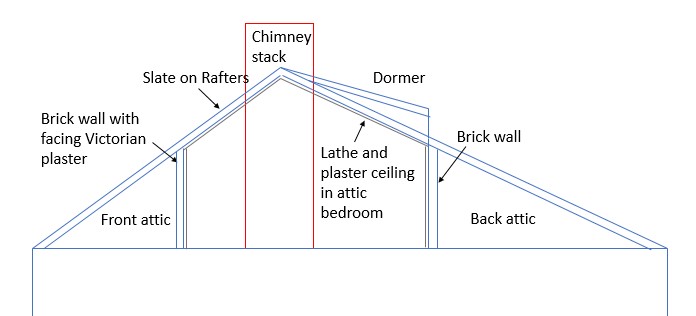 and a rear view showing how the dormer bit works… presumably I need to insulate that dormer wall internally (and reglaze with Triple glazing rather than the UPVC double glazed window that is there.)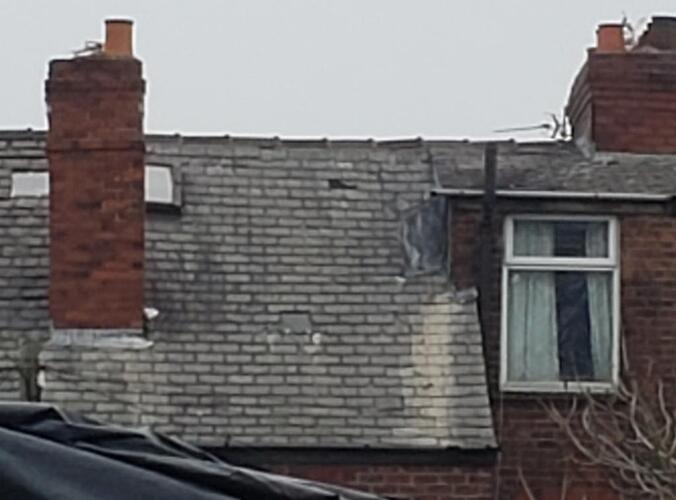 EEK!